Redbubble Tag Generator Tutorials
Updated at 2022-03-26 14:58:20
Three Steps to Choose the Best Redbubble Tags

1. Enter a keyword to view more related keywords.
Note: If the entered keyword has no results, which means that it is probably not being used on Redbubble. But it does not mean that it is a very good niche, and often likely indicates that this keyword has no traffic value.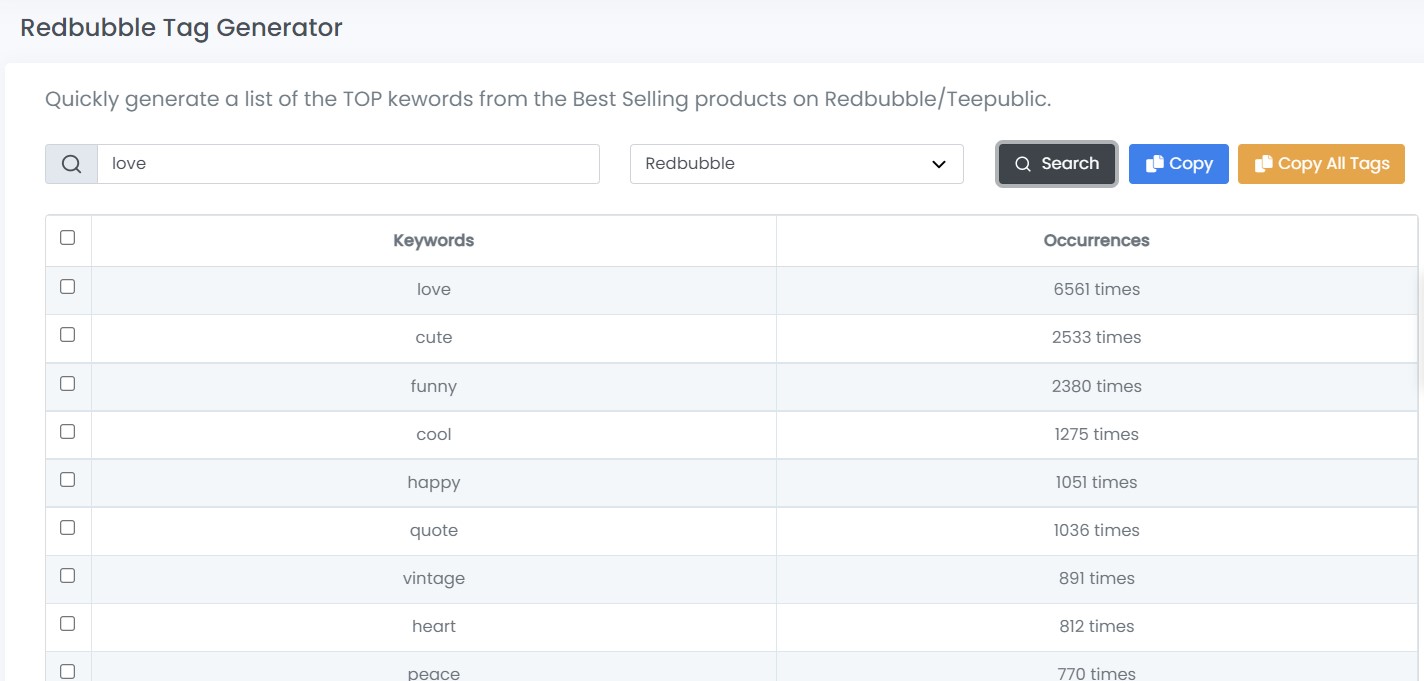 2. Browse the list and select the relevant tags (of course you can check and copy your competitors' tags into our tools for more tags).

3. Occurrences indicate the number of appearing of the tags you entered that we have captured in the hot products among all Redbubble designs.

4. According to the relevance of the tags and occurrences, please copy these tags in Redbubble tags you designed.

Why Use Redbubble Tag Generator?

Tags are descriptive keywords that help customers find your designs on Redbubble, which can quote from Redbubble officials, "Tagging on Redbubble is a great way to make sure you're getting the most amount of views on your artwork. With proper tagging practices, you can use specific keywords to bring your artworks to the top of search results on Redbubble and search engines like Google, which can result in discovery and sales."
In other words, tags are better for Redbubble to understand your designs and associate them with Redbubble search terms, so that when customers search for keywords related to tags, your designs are presented to them based on ranking rules. Therefore, tags are super critical to your sales.
Some Tips of Redbubble Tags

1. Each design can use 15 tags.
2. Tags should be the theme or content as far as possible, such as flowers, trees, sun, plants or cicadas.
3. As for the theme of the design, we recommend to use near-synonyms or associative words as much as possible, such as the design of starry sky: tags might be celestial bodies, planets, night sky, universe...

Things not to do for Redbubble Tags

1. Don't add "popular/hot" tags that are not related to the theme, which are likely to be flagged by Redbubble as a spam design and the final result may affect your product ranking.
2. Don't pile up Tags. In practice, repeatedly entering tags is not helpful for your product ranking, we suggest that you could choose more similar words.
3. Be careful to use brand keywords and copyright keywords (other company names and trademarks).
4. Do not use too broad words and adjectives. For example: hot, latest, interesting and gift.