Etsy Trends
Free Etsy trends tool that gives you the latest Etsy Print on demand trends, updated daily! Get the most popular and trending keywords on Etsy!
FREE Account
FREE Training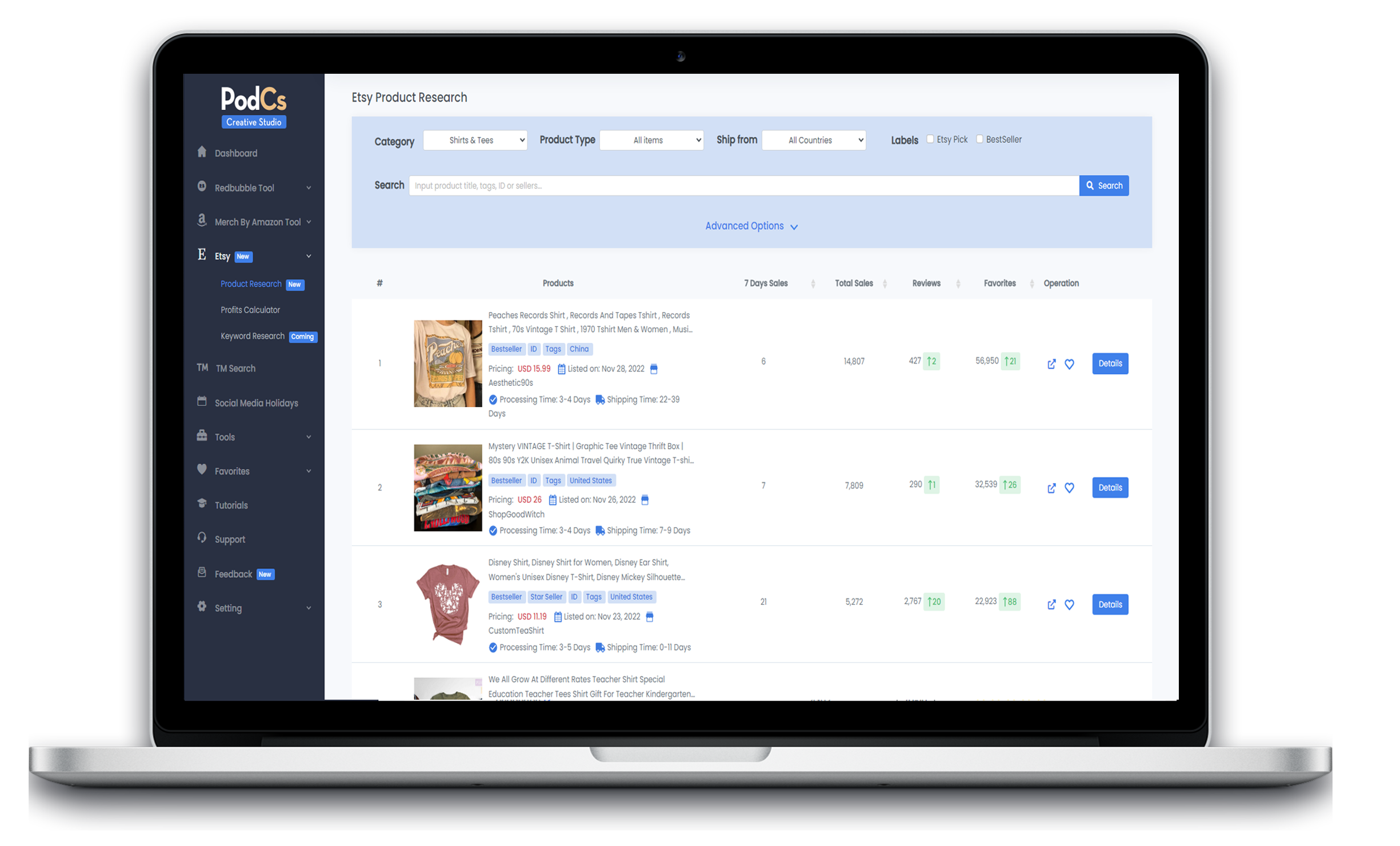 Etsy Print on Demand Products
(Live Data)
#
Product
7 Days
Total
Review
Favorite
Operation
1



2



3

Etsy's Pick

ID

Tags

United States

Processing Time: 6-13 Days

Shipping Time: 0-17 Days



4

Bestseller

ID

Tags

United States



5

Bestseller

Star Seller

ID

Tags

United States



last updated : Jan 20, 2023 UTC
What Can Etsy Products Research Tool Do For You?
Start with a free account and explore all the information you need to change and improve your Etsy store.
Find better listings with Etsy products Research
It is important for you as an Etsy seller to have the right product information and keywords because it will help more customers discover your Etsy store. If you don't do proper product research for your store and listings, you basically risk being overshadowed by your competitors. Our research tools make Etsy product research easy. Find the products to sell and optimize your listings with the right keywords.
Comprehensive product listings
We list T-shirts with hot selling potential on Etsy. We put the above key information on the Etsy product listing page, product detail page, and improve your browsing efficiency.
Multi-indicator product data
Each product has a detailed data analysis page, where you can see the title, description, category, rating and other information for each product. Highlights and descriptions are placed on the right side of the detail page, and product tags are listed separately for easy one-click copying. The most important thing is the line chart containing sales, favorites, ratings, and prices, which will be a very beneficial tool for analyzing competing products.