Etsy Tag Generator
This tool will help Etsy sellers to generate relevant and effective tags. Help you save time and effort in finding the best tags for your products and improve your chances of attracting more customers to your Etsy store.
FREE Account
FREE Training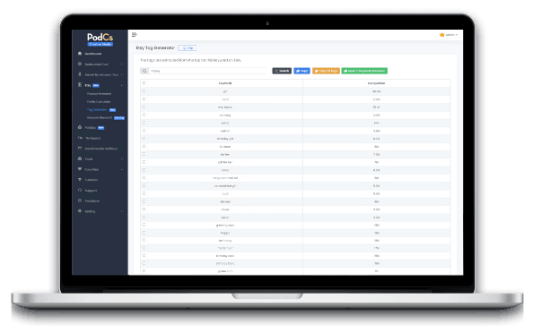 What can Etsy Tag generator do?
The tool helps you optimize your listing for Etsy's search engine and increase the visibility of your products in search results.
Tips
The main source of our data is the keywords you enter and the tags of the best-selling products on Etsy to aggregate the data, and finally get the ranking results. The sources of these data are from Etsy. So we recommend that you use Keywords Analysis Tool  if you want to search related keyword data or volume other than Etsy.
last updated : Dec 2, 2023 UTC
Do all of this and more with PodCs
Create Your Free PodCs Account
Start, run, and grow your POD Business with all the tools, training,
and expertise you need.