How to use Products Research to analyze hot new product data
Updated at 2022-06-13 11:22:47
I will take you to know about the Products Research function of Podcs in 30 seconds:
Our Products Research feature provides daily updates on nearly all Mba products sold across Amazon and could be used to select Niches, analyze popular trends, track competitors, and more.
In the product selection tools, you could not only filter the products that meet your expectations, but also directly use the built-in Niches mode of the system.
Also, there are analysis data about multiple dimensions of the product, helping you find popular Niches more accurately,And can help you query the merch by amazon copyright , avoid copyright disputes.
If you have any confuse, please join our Podcs Facebook group for consultation~
"Print on Demand Niches Trends Daily"
Youtube: Pod Trends Depp
--products research
This is a quite powerful function, which can analyze products with rapid sales growth, potential products, problematic products, future explosive products and more in a short period of time. This can be used in conjunction with other functions. We will discuss later use this function to talk about how to use it with the rest of the functions.
I will briefly explain what this function could achieve

Firstly, you can select the filter conditions at the top , such as the country you prefer to locate, products, and other categories. After setting, entering the keywords you want to filter into the box below.
For example: I searched with the keyword "red"
The results are all products related to the keyword "red"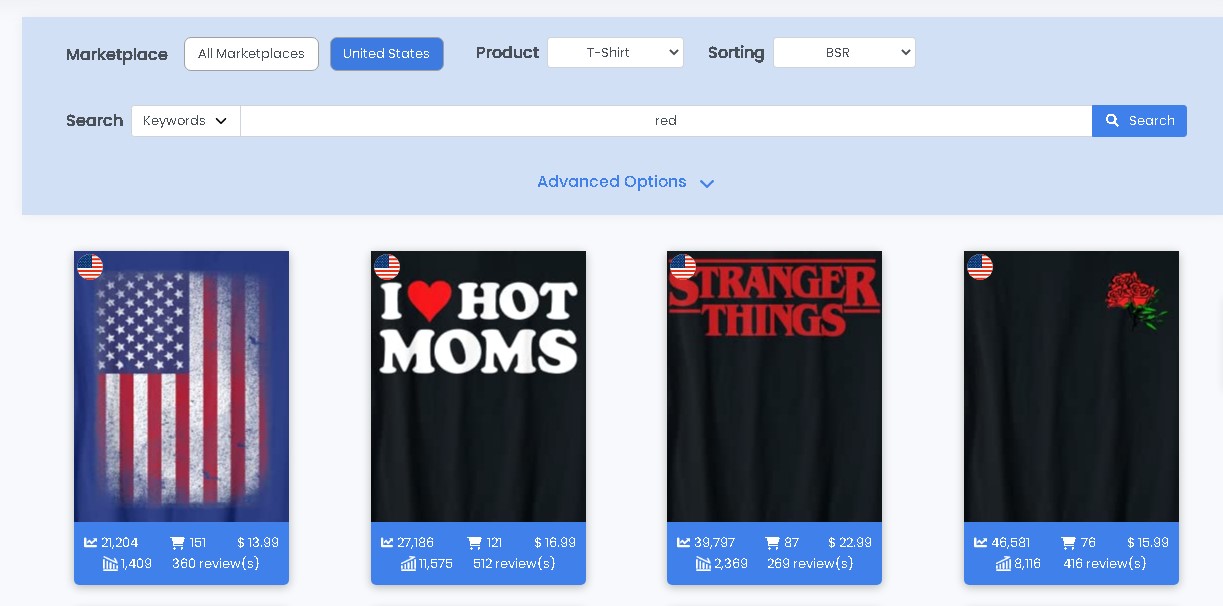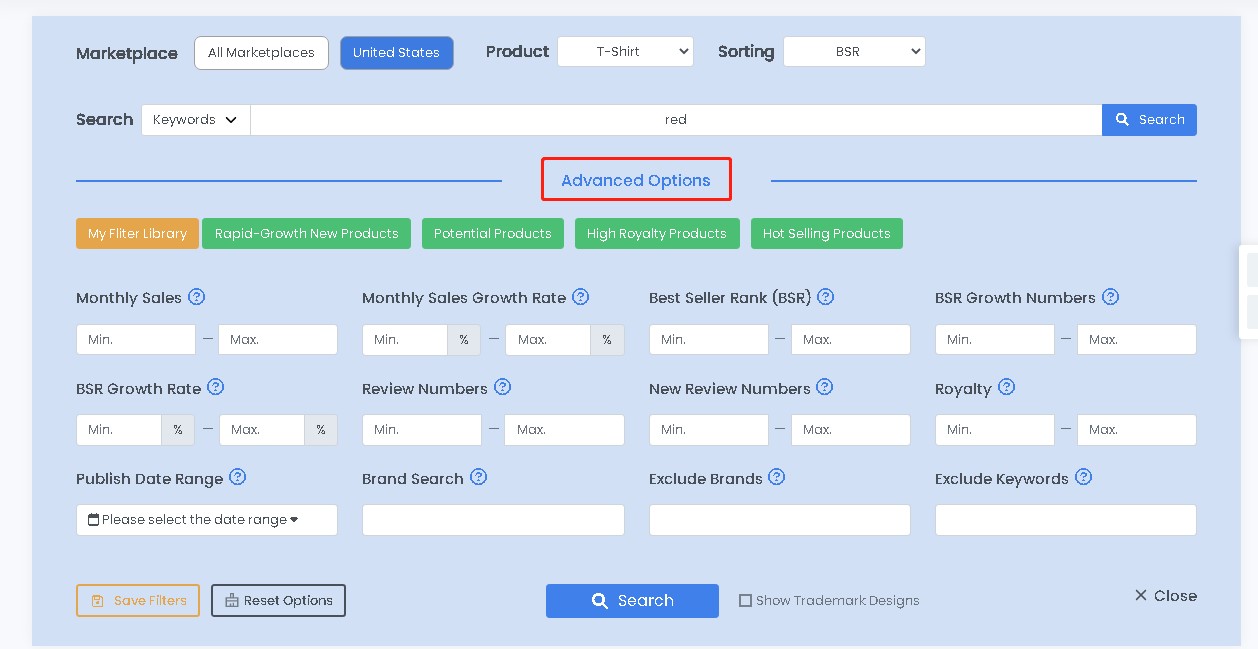 Click "Advanced Options" to open the following advanced options, click again to close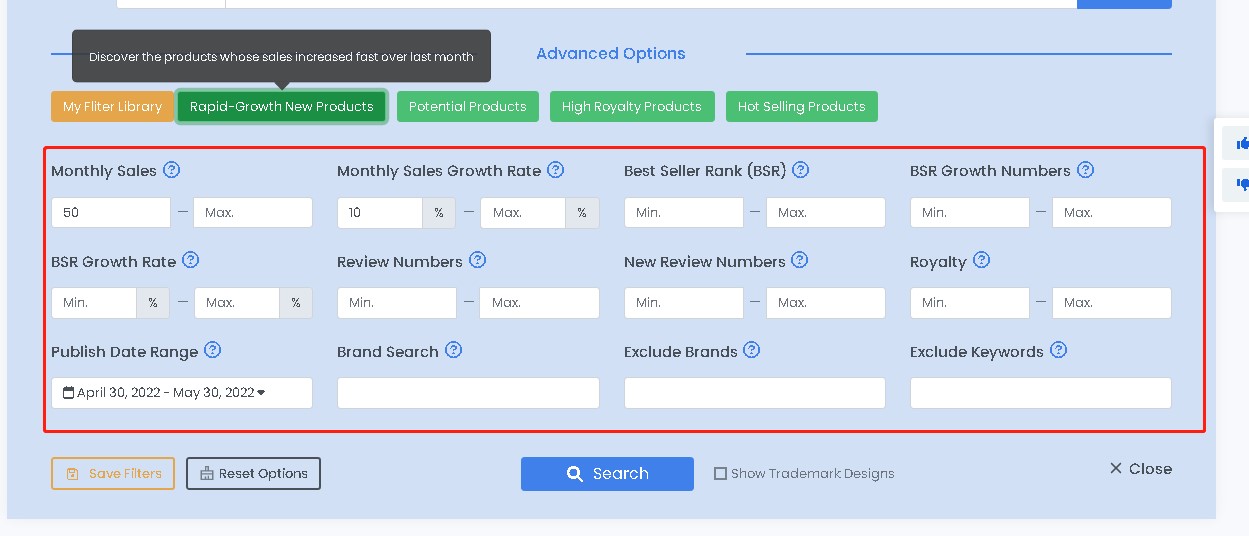 If you don't understand the meaning of the options selected by the red box, you can click the "question mark" next to each title to have an explanation. We also provide reference options. The four green options above are the suggestions we provide. These four suggestions belong to the appropriate suggestions screened out by the system based on big data, and the screening conditions could also be adjusted according to your own needs.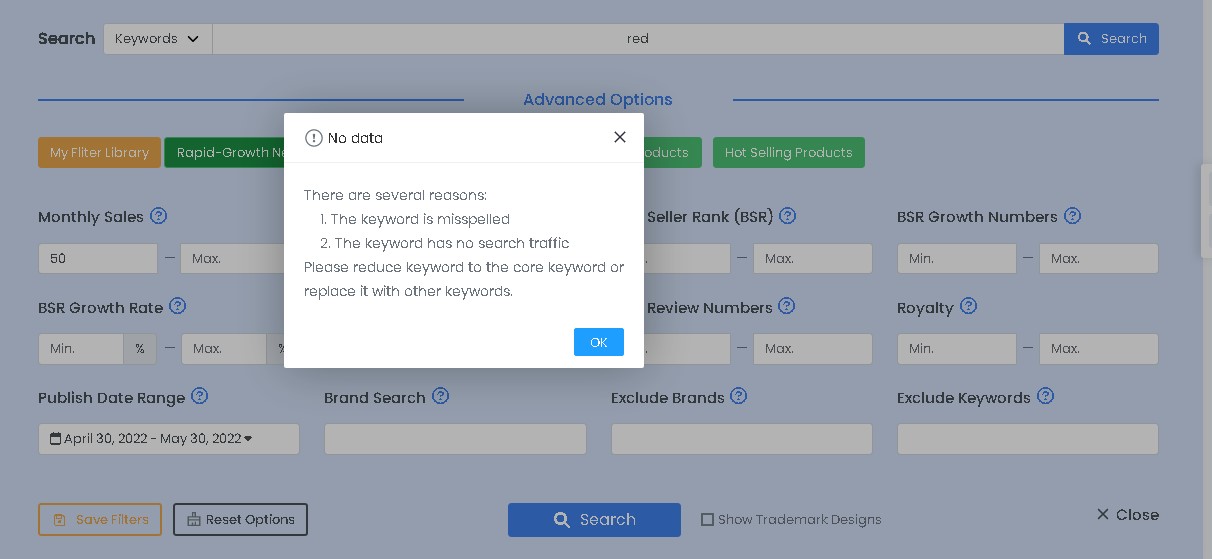 When this window pops up, you have to adjust the search criteria.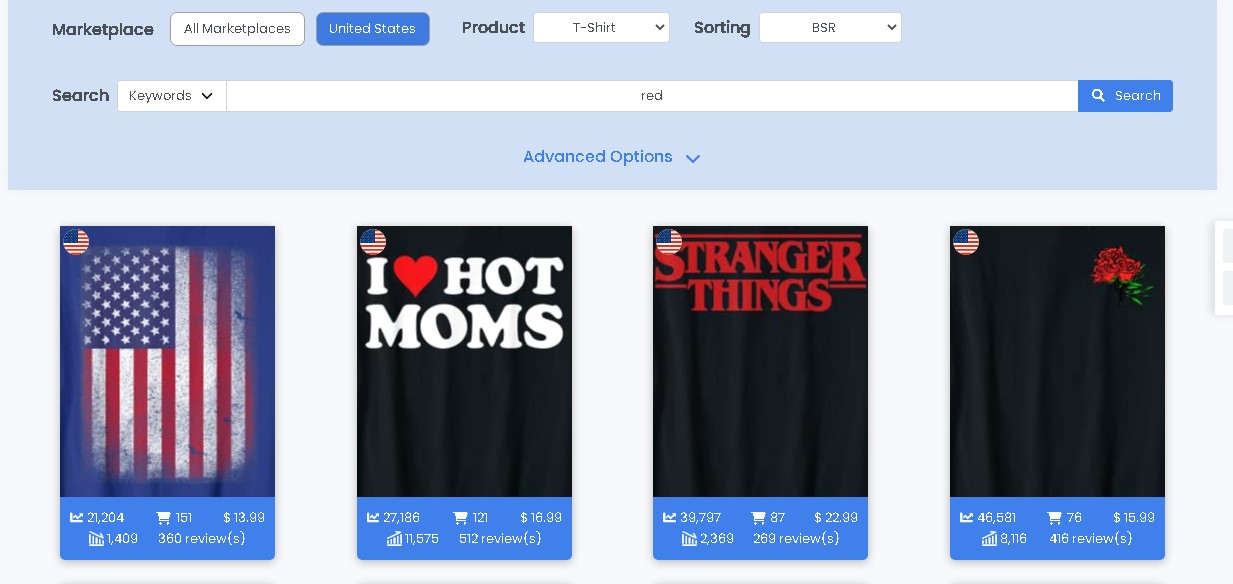 If you prefer to upload new products, we recommended to use the "Rapid-Growth New Products" function first. We will give a preset value, which is also the conclusion after a long-term investigation.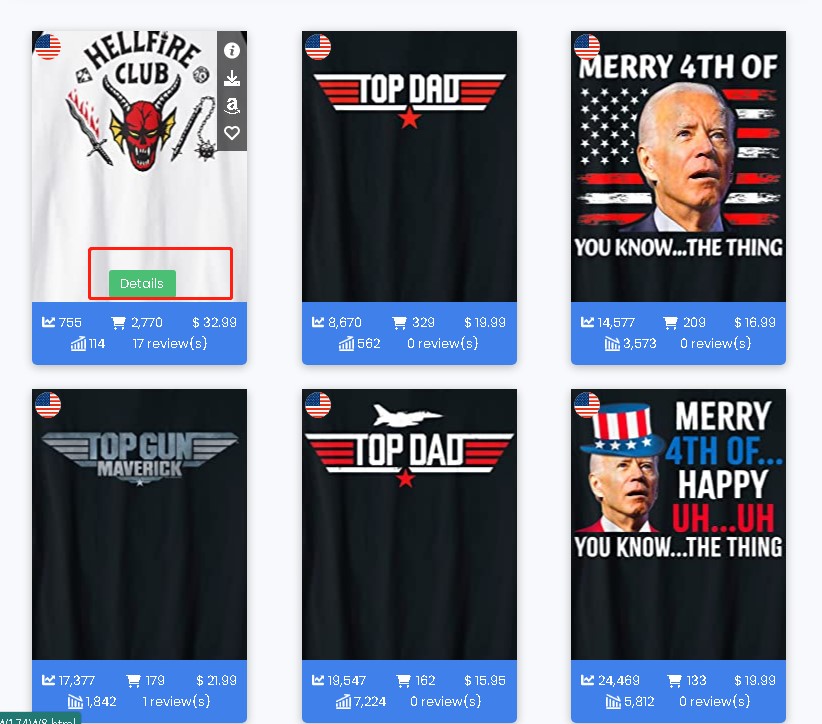 These products are all filtering conditions that meet our preset values. We can randomly select a product among these products to analyze the results, and add the analyzed results to our own products. Mouse over a product will prompt "details", just click to jump.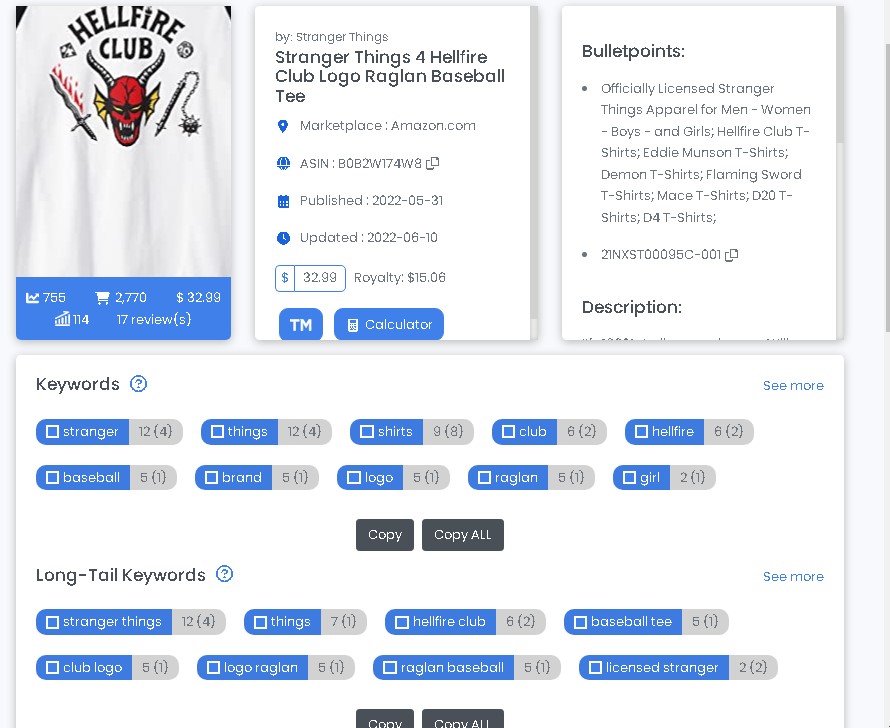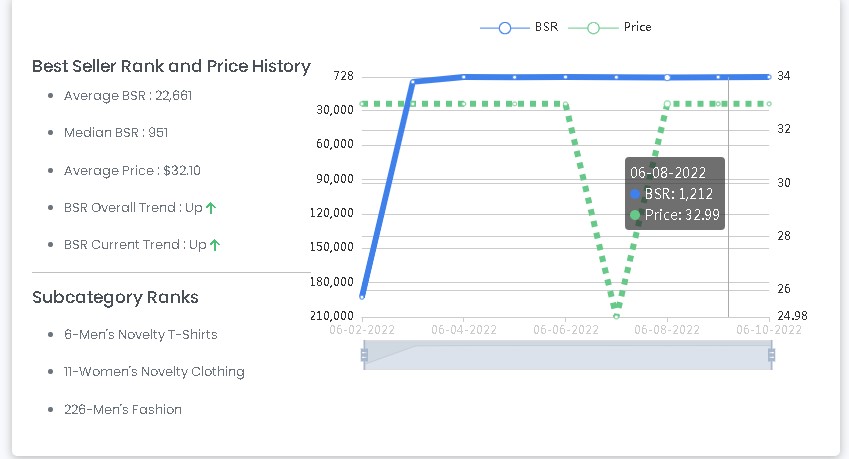 There will be so much data for us to analyze. Through the line chart, we can see when the search volume of the product starts to rise. At this time, we don't know what caused the data to rise, so let's guess "festival, weather, preferences, etc." It can be seen directly from the product pattern that the product data has risen due to "festival".
If we can't remember what holidays have been recently, we can refer to this function: "Social Media Holidays"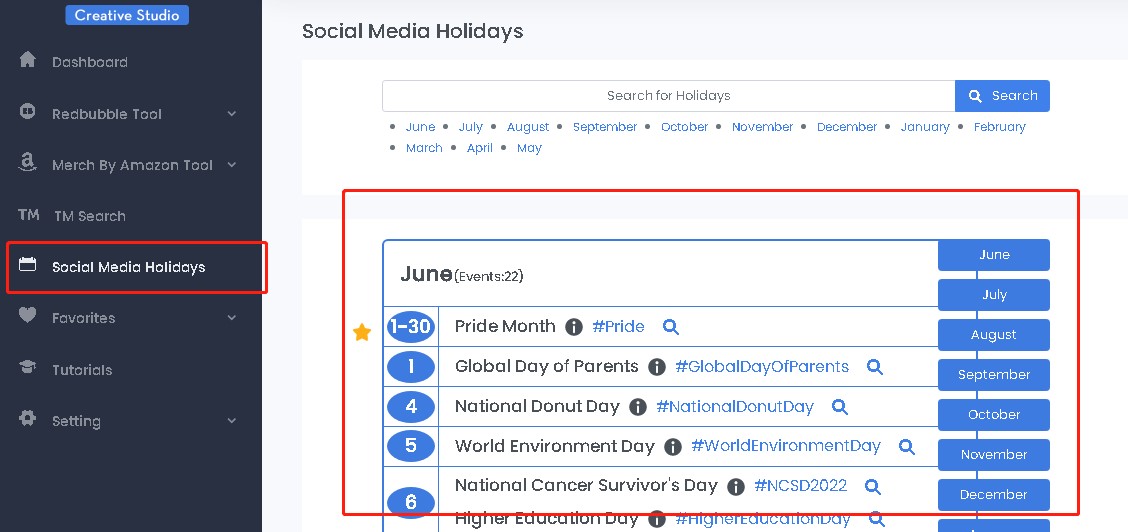 We could design according to these festivals. Also, it could be designed according to other habits, this function is for reference only.
Now let's go back to the original screening conditions to analyze which one is suitable for us to learn from.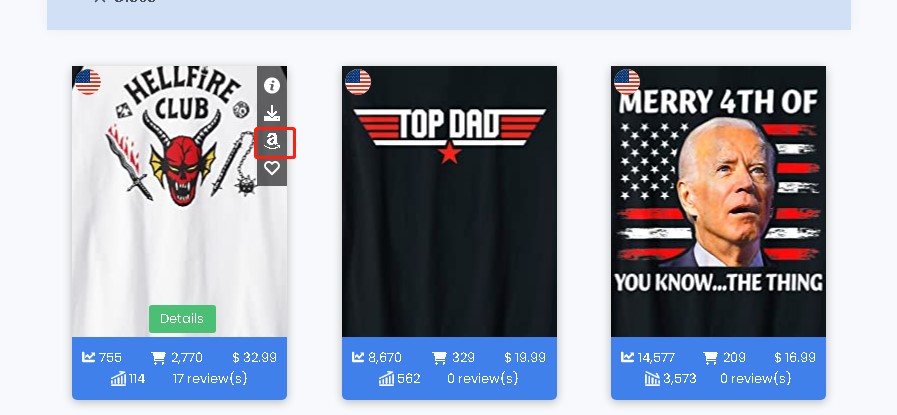 Click on the "Amazon" logo and copy the values below in the website.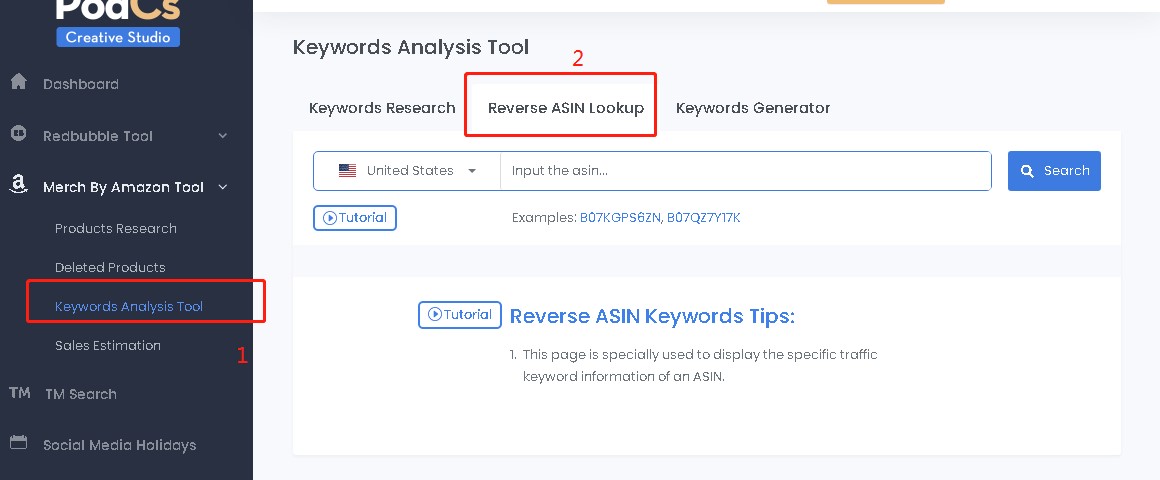 Go to the "--keywords analysis tool" function and select the search box of "Reverse ASIN Lookup"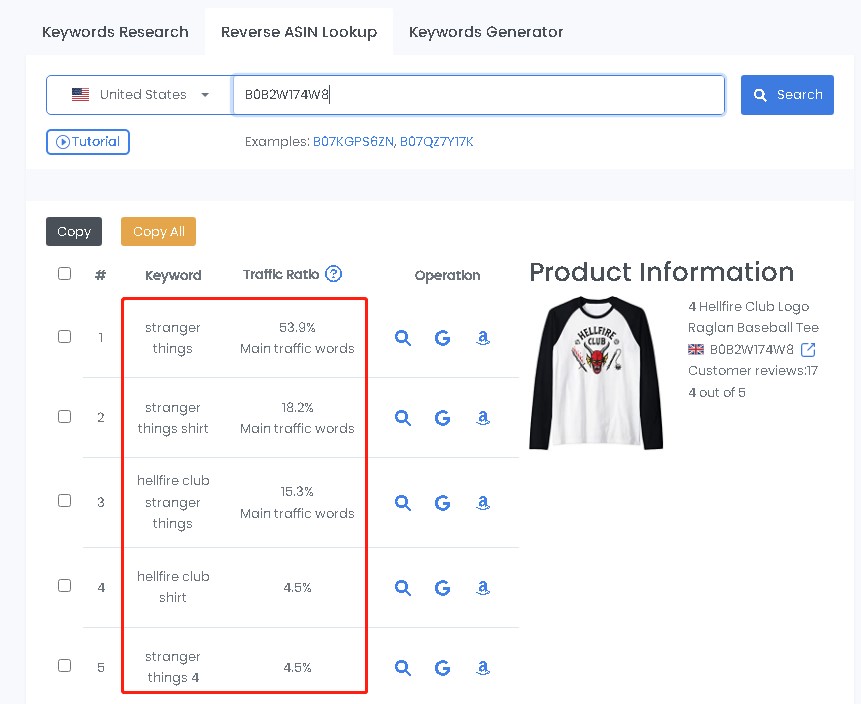 Just like this, we can see that there are 5 keywords followed by the corresponding data. At this time, we could know that the main search source for this dress is the first keyword, which accounts for 53.9%. If this keyword in line with your product, this can also be used.
This will also increase the exposure of the product. We could analyze what related keywords are based on these keywords, including the keywords that come from Amazon.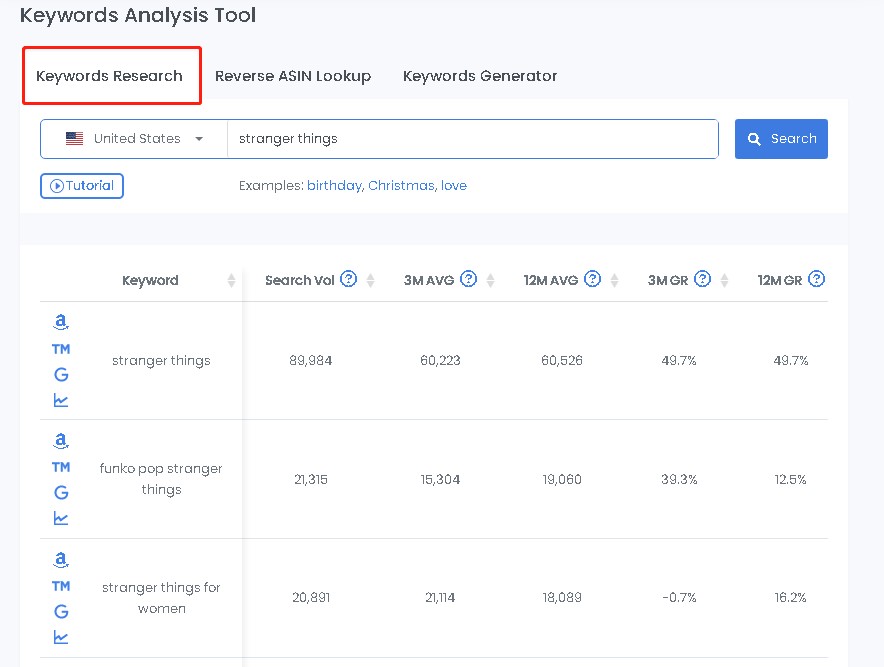 "Keywords Research" function could help us to get more related keywords. Each keyword has corresponding data next to it. The ranking of keywords is absolute, but the data behind the keywords represent relative value.
There is another situation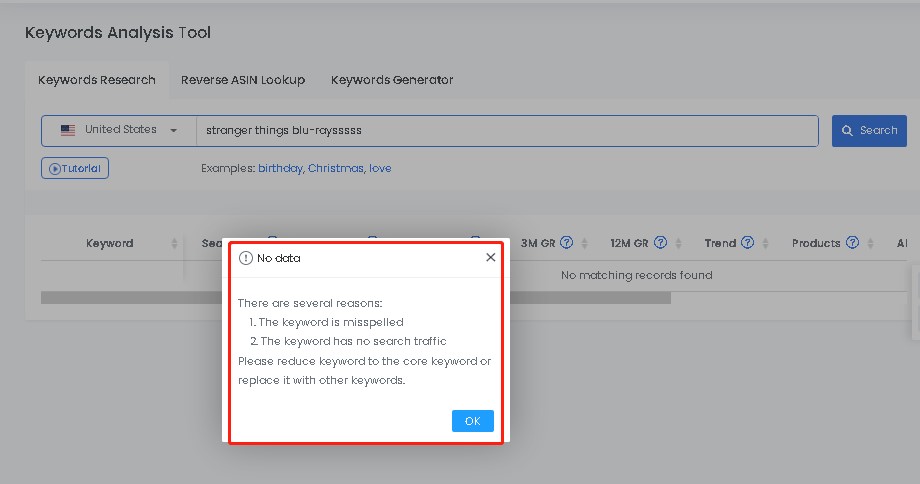 If the keyword you are looking for appears this dialog box, then there are two cases
This keyword is the latest keyword, there is no data for the time being
The keyword itself doesn't have any search volume
Both of these situations indicate that this keyword is unnecessary. If a new keyword prefer to be searched and accepted by more people, more efforts are needed. Spending so much time and energy, we could abandon this keywords to optimize and promote valuable keywords, unless your store has enough ability to promote this new keyword.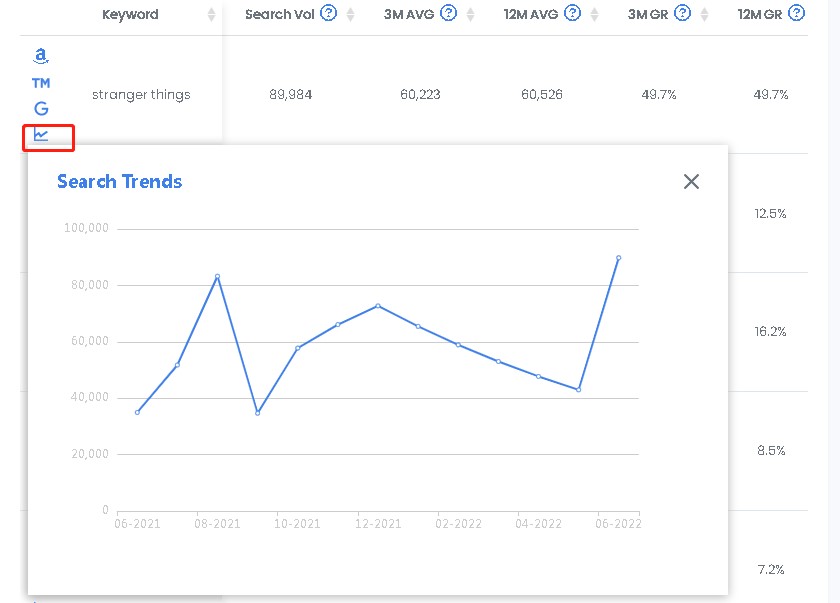 From this piece, we can see the monthly search changes of this keyword. Now we can see that this keyword has two fixed rises in a year, and then we can make a corresponding adjustment based on the holiday problems we analyzed before. Also, not all products are related to festivals, there are other reasons. Festivals cannot represent all the examples.
We should make adjustments at the lowest point of the data. When the data reaches the highest point, then this product is not the product we focus on optimizing and promoting. We could analyze whether other keywords are also the same. If half keywords suddenly declines at a certain point of time, then this product is not the product we focus on optimizing and promoting, and a new product needs to be uploaded.
If you can't judge the audience of the product or what the related product keyword is, you can use the following function:
This function can provide us with relevant search conditions. There are three levels in total, and the relevant content will increase with each additional level. Selecting the relevant keywords suitable for your product and filter them in "Keywords Research". Of course, you can also return here. In the "products research" function, continue to search for related products and analyze the keywords.
These four functions are highly variable and need to be flexibly adjusted and used by yourselves.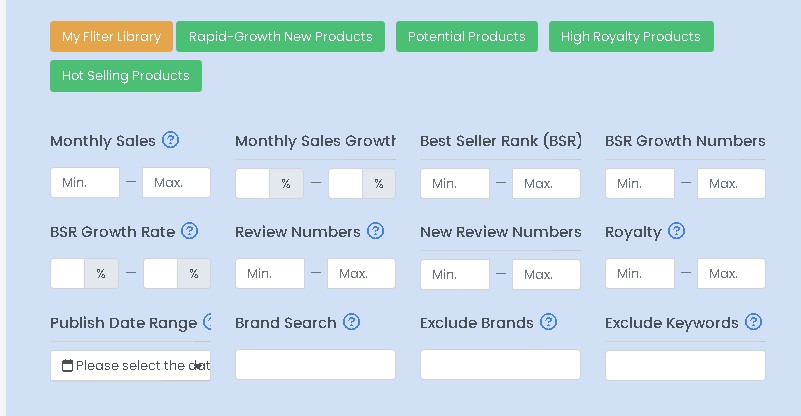 The values in the picture above can be adjusted and filtered according to your own situation. If you are a novice, it is recommended to use the preset values given by us, so that you could set your own products according to the preset values given by us, and you will reduce the number of samples for yourself. If the store that has been operating for a period of time, you can follow your own ideas and use your own values to analyze it, which will help you analyze the reasons for poor products and make adjustments.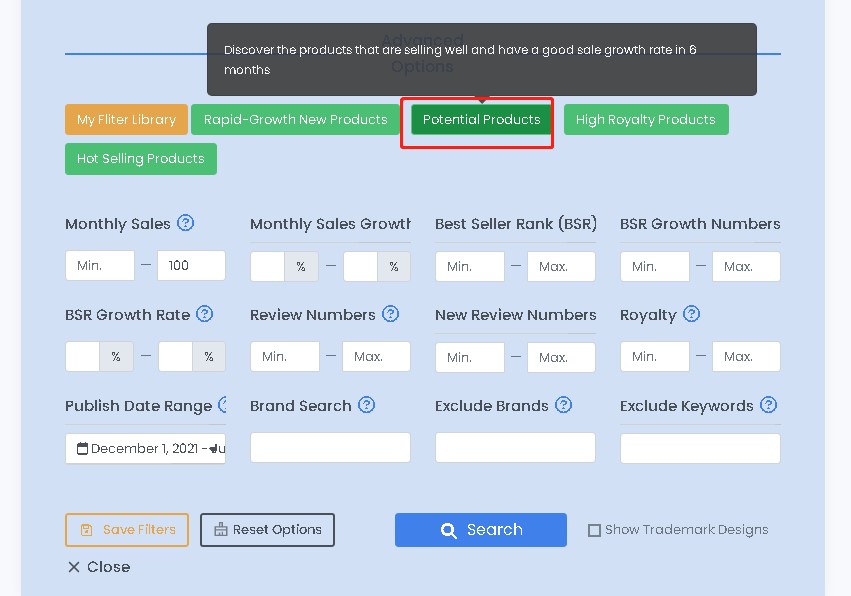 Potential products function could help you find out stable products or keywords, which will help you automatically filter out stable development products. Although such products will not have great data fluctuations, they are relatively stable and can be understood as products for fixed consumption. The products screened in this way can be analyzed and made persistent optimization, such a product will bring you steady growth.
Next taking a look at the best-selling products below: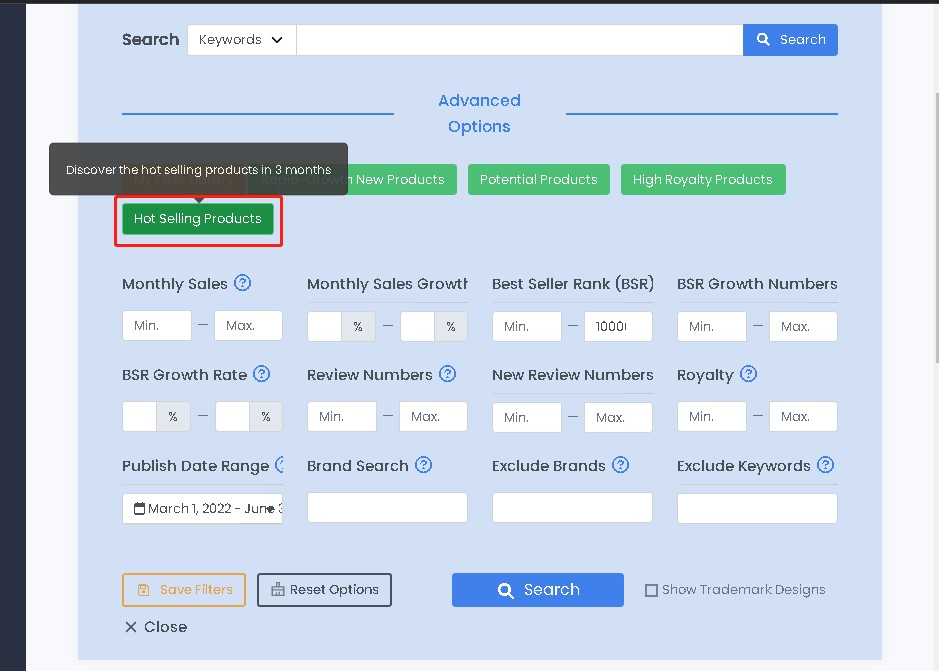 Hot Selling Products will display the ranking of hot-selling products in this category within the past three months. You will find new products similar to popular products if you pay more attention. After all, new products are also included in hot-selling products, but hot-selling products are displayed according to three month is the time unit. We can analyze the product changes within 3 month through this part of the function, and analyze the data to find out what will be the hot-selling products in the next quarter. For your new products, enough exposure and clicks will be increased by matching with suitable keywords.
Sales Estimation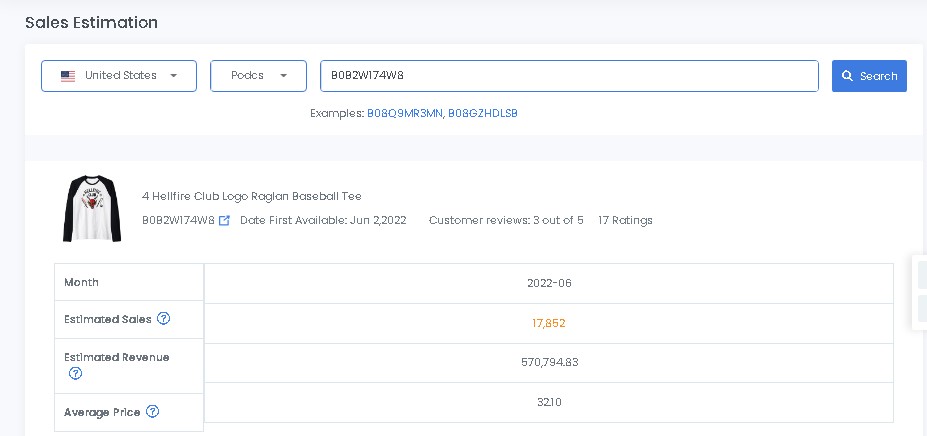 We can also analyze how much value this product could bring us based on ASIN. From the picture, we can also see the price change in a week. According to the analysis of the previous functions, the reason for the change could also be found. And this function may not be used by novice. It's not really needed for them, but it will come in handy later.

--TM search
This function is for checking trademarks. After all, trademark copyright is vital. We plan to put this page on the homepage of the website. Regular visitors will have 3 searches opportunity. Permanent use rights (unlimited times) are provided for registered users. Making sure that each keyword and title must be checked trademarks before upload new product, so as to ensure that the product will not be punished due to copyright issues.
If the keyword exposure comes up according to our tools, but the click volume is not very high, then you should analyze the accuracy of the keyword and title. To see whether the products searched on Amazon with your keywords are in line with your own products. There is no problem with the keywords and title if you could find them, then you should consider whether your design is not popular, we will provide download of the corresponding product image, a slight adjustment is needed. Therefor, we could learn from high-selling products to make small floating modifications, I believe you will make more money through our tools.