How to using Etsy keyword research Tool
Updated at 2023-04-14 13:52:27
Benefits
Optimize Etsy listings: find keywords with high search volume and low competition
Identify market demand, match keywords with target products, reference the performance of top products, and then adjust operational strategies
Etsy SEO: Affecting Your Product's Etsy Ranking and Exposure
Etsy SEO (Search Engine Optimization) is the process of improving the ranking of Etsy items, making them rank higher in Etsy's search results. However, Etsy has a complex search algorithm, and quality SEO results will showcase your items to more potential customers, increase item exposure, and get more sales conversions, so you need to understand the important indicators that affect Etsy SEO.
Usage
Overview: Using "Happy" as an Example
In the search bar, enter HAPPY and search. In the resulting options and values, we will display market demand, competition, and profitability.

Pageviews and favorites reflect market demand, with higher numbers indicating more demand. Competition reflects existing supply, with higher numbers indicating greater competition. Sales can help you determine the profitability of selling in that category.

Pageviews: The total monthly pageviews of the top 100 listings for that keyword.
Favorites: The total monthly favorites of the top 100 listings for that keyword.
Competition: The number of relevant listings Etsy found for that keyword. EtsyHunt directly connects to Etsy and offers up to 50,100 competing listings, which means there may be more competitors for listings with "50,100+".
Sales: The estimated total monthly sales of the top 100 listings for that keyword.
You can click the "

" button to go to the Etsy store to view the product. In the back, you can click TM to view brand usage and click

to Google search this word.
Click "Click to get more information" to redirect to the detailed page of this word.
On the Detail Page
Google Search Trends: Used to Determine Sales Patterns and Future Trends for Related Products
Currently there are two types of search trends: Google Web search reflects what people search for in the Google search engine; Google Shopping search specifically refers to searches on the Google Shopping page, which has higher demand.
Trend charts can help you determine if a product is in a seasonal pattern, so you can prepare in advance to avoid stock shortages.
You can also determine if the overall trend is upward year by year, to determine future sales trends and sustainable cycles for your products.
By filtering different countries, you can determine the demand for the product in different countries/regions, thus planning your sales layout and optimizing your demographics.

Similar keywords: save manual search time, make better decisions
In the actual operation process, we often struggle to find competitors' long-tail and core keywords to optimize the list. We provide you with "similar keywords" to save time comparing top products and searching for links with a large number of words. It also supports one-click copy and copying all or the first 15 keywords, making it easier for you to replace keywords in the background. Ideally, you want to find keywords with high search volume, low competition, and high sales, but in practice, you can sacrifice a certain number of search results to obtain words with average search volume but high conversion rates (high sales).

Hot Word Cloud
Find the most commonly used keywords in related products, move to the keyword to see the frequency of appearances.

Analysis of Top 100 Bestselling Products
Conduct a comprehensive analysis of the top 100 best-selling products using keywords to identify the characteristics and recommended operational strategies of the headline products that match the keywords.
Sort the products by total sales volume from top to bottom to determine if there is a monopoly in the category, and discover new product opportunities through shelf time, then optimize competitive strategies. Additionally, refer to the main categories to determine if the target keywords match the target product.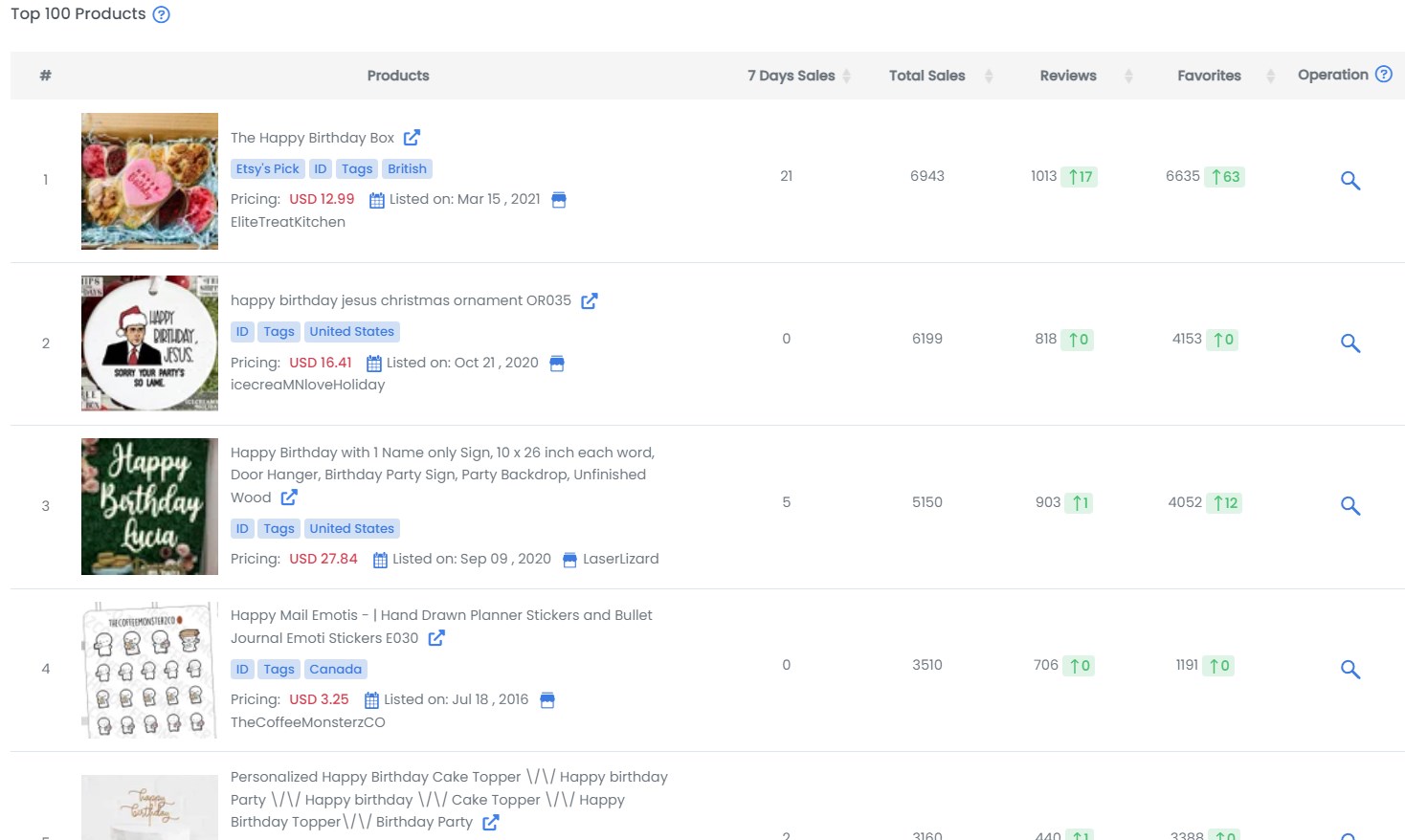 Refer to the average selling price and average delivery time to see if a competitive advantage can be achieved through more suitable pricing strategies or faster delivery times.

Choose the path to the shelves by referring to popular categories.
Determine logistics competitiveness by referring to the transportation time of popular products.
Refer to pricing strategies and, according to price distribution as shown in the chart, the most popular products fall within the price range of $2.5 to $5 and $14.95o $26.