Niches Research Trends for Print on Demand Products
PodCs provides Niche Trends Tool for Merch by Amazon, Redbubble, Etsy, shopify and offer Unique Print on Demand Products.
Easily enable Print on Demand business keep growing.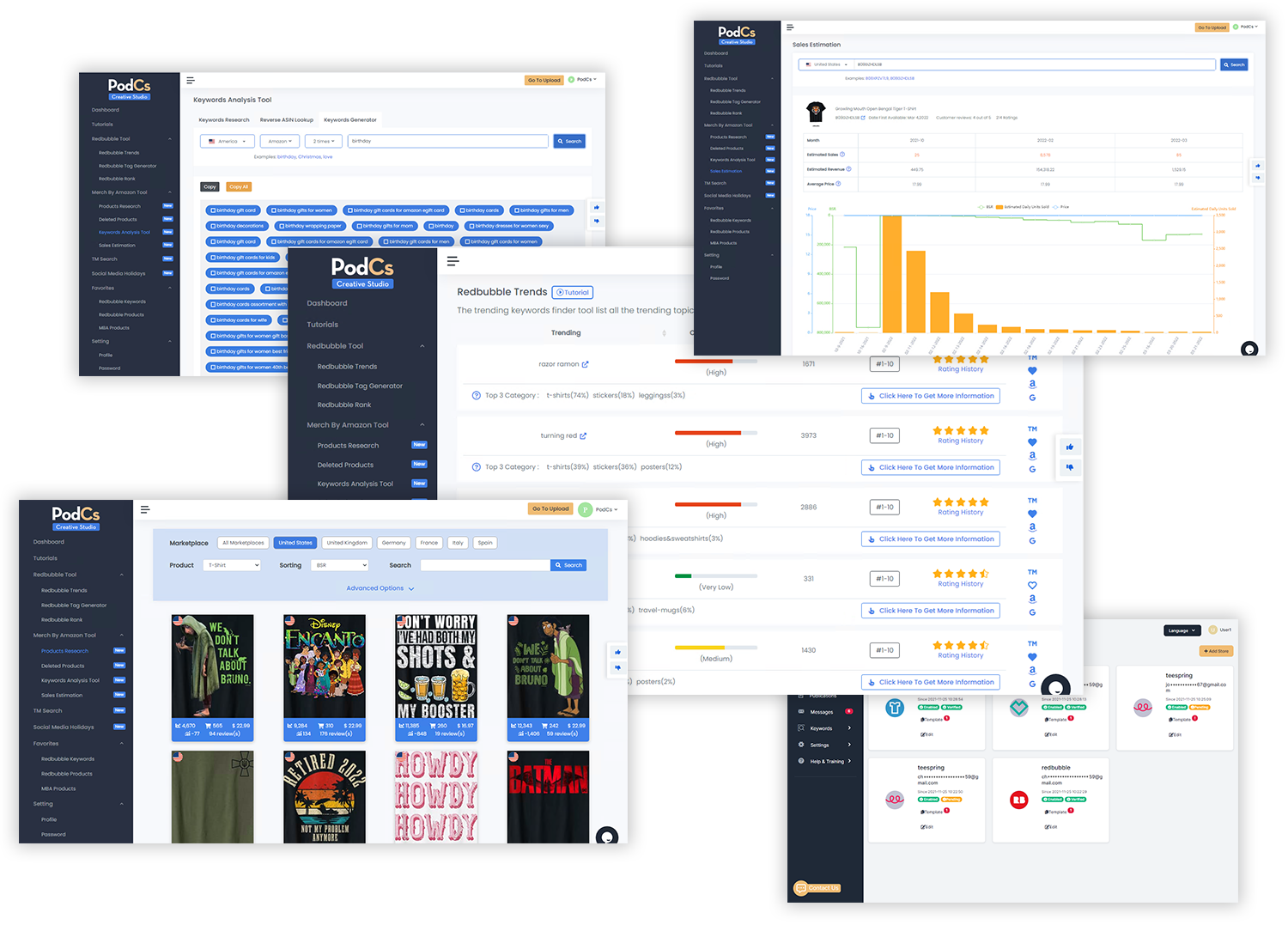 Niches Research

Keyword Finder
Trademark Check

24/7 support
PodCs is
FREE NOW!
Unlimited uploads for all Platforms. Make your Print On Demand simple and easy.
Daily Upload Limit 50

Unlimited uploads to ALL platforms now

Support platforms: Redbubble, Teespring, Society6, Threadless, Shirtee
Redbubble Upload Template
Spreadshirt Upload Template
Spreadshirt UK Upload Template
Teespring Upload Template
Trademark Check (WO, EU, US, DE, UK, FR, IT, ES)
Watermarking
Upload Manager / History
Automatic Translation
Multiple, parallel upload
Expedited Support
Powerful Keywords Trends Research
The data of Keywords (Tags) comes from the search keywords of buyers from platforms such as Merch by Amazon, Etsy, Redbubble, Ebay, etc.

Entering Keywords or Tags can get tons of Related Niches keywords in seconds. There are also tools such as locating competitors' popular traffic keywords.

This is a professional tool for researching keywords entirely for Print on Demand businesses, including Merch by Amazon Keywords, Redbubble Tag generator, Etsy Tag trends tools.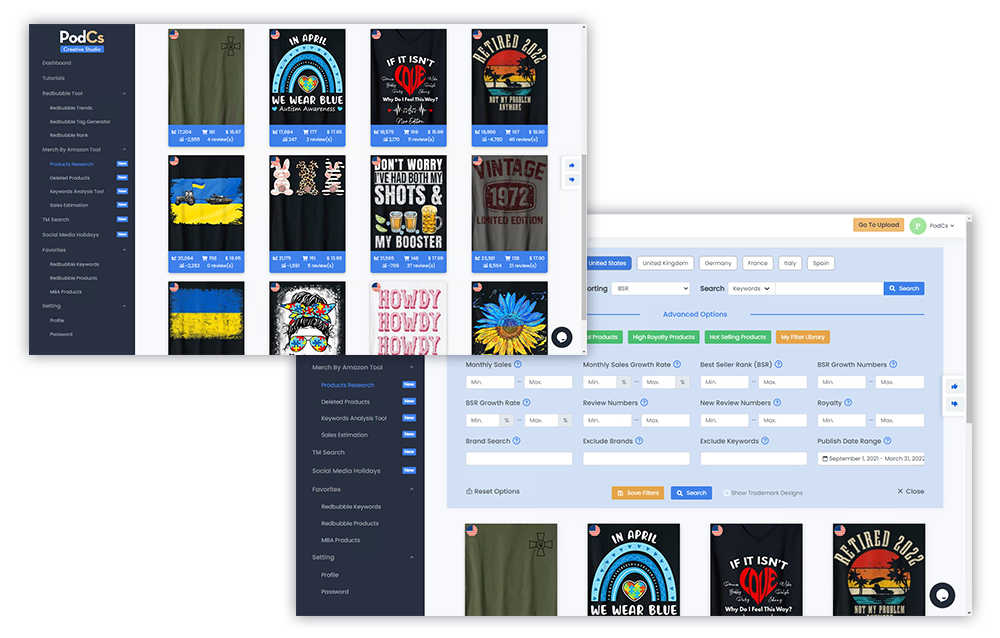 Easily discovering Print on Demand Niches
PodCs has a database of more than 45 million Print on demand products, and the data is increasing at a rate of 50,000-100,000 per day. With our built-in Niches filter, you can easily find products and quickly verify the success of your Niches ideas with the analysis of seasonal trends, profit estimates, and more. Discovering Emerging Trends & Top Ranking niche ideas.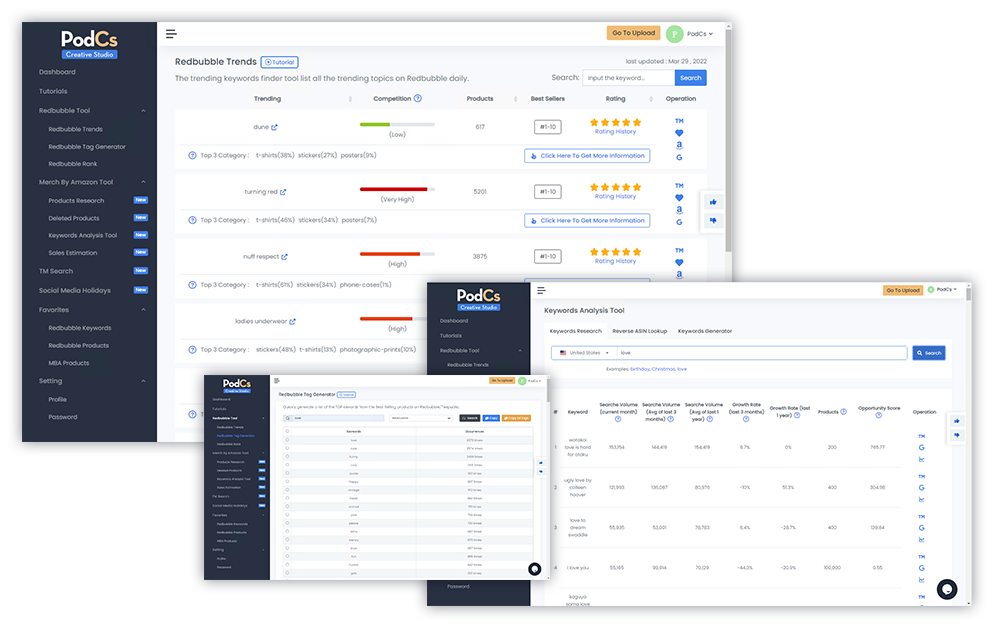 Free Trademarks Warning and Check
In any case, account security is the most important. Trademarks Warning is a powerful feature that can help determine if the tags, titles or description you want to use contain potentially infringing words or phrases. (This feature is being tested, so it is not 100% accurate)

Trademark Check can check the trademark status of a single word or phrase. Add trademarks to watchlist can monitor any changes of trademark and will be notified by email.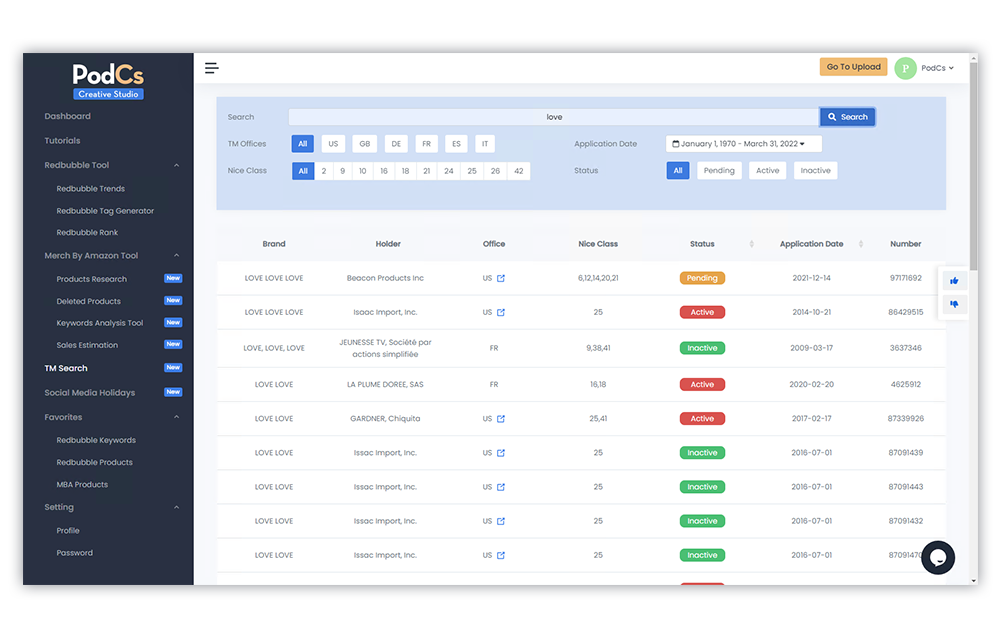 Save Time: Design Management & Upload Automation Tools
There are dozens of powerful features such as fully automatic uploading of designs, powerful tag management, as well as filtering, searching, checking for duplicate images, Trademarks Warning and multilingual translation.